Vicki's Special Olympians
An organization near and dear to my heart is the
Special Olympics
. What is Special Olympics? It's an International program of year-round sports training and athletic competition for children and adults with mental retardation. The organization serves over a million athletes and offers 26 different sports throughout the world.
Woman Makes Special Contribution to Special Olympics
Article taken from Today's News Herald – October 15, 2004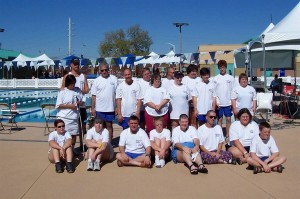 Special Olympics swimming coach, Vicki Lind, said her biggest reward is helping athletes learn to do something that they may have thought impossible. "Winning is great", she said, but her athletes mostly value the opportunity to compete.
For the past four years, one busy Lake Havasu City working mom has given up her Saturday mornings to coach special athletes. "The rewards far outweigh the sacrifice", she said, "and besides, you never know what you can do until you try."
Vicki Lindtwed, a Special Olympics swimming coach, said many coaches involved with Special Olympics have family members in the program. Her own daughter has been swimming freestyle and backstroke with the team for four years, she said. Her primary goal is not medals, but teaching new skills and helping people do things that they had never thought possible.
"To watch them learn that they can do something is the greatest reward. These kids have never had the opportunity to be in team sports – this is their program."
The athletes face tremendous physical obstacles, she said, but learn that they can find a way to do things they once considered impossible. She said that performing is More important than winning.
"Our motto is, "Let me win, but if I cannot win, let me be brave in the attempt", she said. "It's not so much about winning as learning something new and challenging. Winning is not the be-all and end-all – they are just as proud of a fourth place ribbon as a silver medal – but gold is still pretty special," she said.
Lindtwed said the swimming program has two assistant coaches this year – Joel Nelson and Mel Pugliesi – plus three junior coaches; Robert and Aubrey Smith, who are brother and sister, and Samantha Nelson, Joel's daughter. It's a vast improvement over her first years, she said, because it gives her the freedom to miss an occasional practice.
"The first two years I was there for every single Saturday; I shattered my ankle bowling and had to coach swimming from a wheelchair – but it was possible."
The Special Olympics swimming program is open to those over 8 who are physically or mentally challenged. Disabilities included (but are not limited to) brain injuries, blindness and Down Syndrome, she said. Team practices are held Saturdays from June through October; area meets begin in August, and the season ends with state, national and international meets, she said.
"We're always looking for more athletes and more volunteers," she said. "Any volunteer will tell you that they get more out of it than they put into it."
To volunteer, or for more information, contact Vicki or Special Olympics at
www.specialolympicsarizona.org
.